writing | press
why small press?
There is a long tradition in many societies of independent pamphlets, zines, booklets, and underground writing with social and political implications. They can be the tools of movements, of fighting censorship, of community, of sharing without answering to a patron. The "DIY ethic" connects to music, punk, indie filmmaking, self-publishing, chapbooks…it is a way of life for many people. For all of my whining about technology, it has given us unprecedented opportunities to learn and share methods, share creative work, collaborate, create digital music and film, create with "print on demand" distribution options, and become publishers of content in minutes.
"you've got mail…."
I am old enough to have started college without the internet. I was in college when we were rounded up for a mandatory seminar on "the world wide web". It was slow, clumsy, had little to offer beyond chats on Prodigy and AOL. We didn't have access to what creative people have today, and so many cannot wrap their minds around that. We now have instant access to everything, and have an entirely different social dynamic. So much time, expense, and effort has been reduced. That is not a negative thing, as it frees us up to work on the things we love. Right? No bus to the library. You could read thousands of books right now without leaving the house and never run out.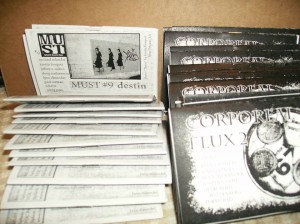 "smell that ink"
I started off with zines as a teenager, handmade magazines of all sizes made with a copier machine, glue, staples, wite-out. I sent some poets out as a teenager, then turned my attention in college and graduate school to essays and the academic writing that was required. I studied social justice and policy, so we were pushed to write analysis pretty regularly. When I had a second little one running around, I found an outlet and a few bucks in blogging, liberal politics and then feminist blogs. The arguing was intense, but I felt like it was helpful when discussion was mature and less ego-driven. In circles where people genuinely wanted to process their views, even the heated discussions were valuable. I found many of my views changing, from the need to defend them.
"been there, done that…"
For many of us, that phase comes and goes. I started to work jobs where I had to focus on people in front of me, in systems that were inadequate, with few resources. I didn't always have the energy to spare to write about it, process it, and definitely not to argue about it.
"dreamweaver, i believe you can get me through the night…"
I returned to the retreat of poetry, fiction, art, working with my hands, learning how to use new materials. And I wanted to learn graphic design, Photoshop, Dreamweaver, CSS, Illustrator. Of course, you can set up a website in seconds now and choose a premade theme. But when I started, I had to learn code and work from scratch. A friend and I toyed with the idea of a website for poetry and fiction. Full Of Crow Press and Distribution came from those discussions, in 2009. Our first "issues" went live in 2010.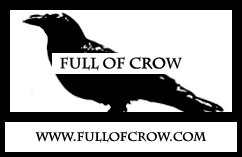 Over the years, it has taken many forms. We kept the quarterly content, and added new sections. Different editors came and went, as time and energy permitted. We experimented with everything from an art blog to experimental audio. We added interviews (Prate). A nonfiction "essay" site (On The Wing) Reviews (Crow Reviews) and we began to produce chapbooks. We added a sister site with a different tone called Fashion For Collapse. We started a weekly online radio show, with poetry features and interviews.
I became the Head Fiction Editor at Red Fez, and became involved in events and readings. I had done readings before, but was starting to get my feet wet with hosting and curating. In 2011, I started to travel as much as possible around the country for readings, events, and festivals. Full Of Crow began to curate in the Oakland Beast Crawl, a literary festival with over 30 readings on the same day. Crow editors have curated each year since, and has also hosted in San Francisco and Cleveland's crawl. We also organize Toxic Abatement Poetry Fest, which was held in San Francisco at Viracocha but has now found a new home at the Octopus Literary Salon in Oakland.
I moved to Easton, PA to an old house that suits me in an urban environment that also suits me. It is diverse, working class, and I don't have two acres of grass where a forest used to be. I believe in population density, pedestrian-friendly spaces, bikes, local business. I have generations of history right in front of me.
It is a place that inspires creativity, and I have a workshop space now to produce both art, books, projects, whatever I want. I have room for my books, collections of chaps, and zines.
My goals now are to continue with local events and readings, connect with others who want to do things and make things, and grow Words In The Ward. I want to work on my local neighborhood website and add interviews. I want to get my art interests organized.
"i want to figure out what I want to be when I grow up…"
Go To:
My Public Page on Facebook (photos, etc.)